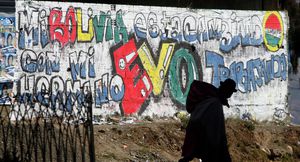 La Paz, Jan 19 (Prensa Latina) Opposition to the government of Bolivian President Evo Morales continues to receive money and instructions from the United States, said today the Minister of Communication, Marianela Paco. 'We have hard evidence, first, on funding they receive to make a negative campaign against democracy and second, on the direct relationship of the opposition with Mr. Carlos Sanchez Berzain', Marianela Paco said at a press conference at the Government Palace.
Marianela Paco said that the opposition in the country receives US funding for a campaign against democracy and the link is Berzain Sanchez.
On February 21 the Bolivians will go to the polls to determine whether to change the State Constitution (CPE) to allow President Morales and Vice President Alvaro Garcia Linera to run for office in the general elections of 2019.
The Minister presented compelling evidence involving the deputy of the Christian Democratic Party, Norma Pierola, who said that it is no crime to receive resources from outside, and her colleague from Democratic Unity, Amilcar Barral, in which confirms that the opposition politicians remain in contact with the former Minister, Sanchez Berzain.
Just a week ago the Bolivian president denounced that the opposition receives funding for the campaigns of right-wing politicians who fled Bolivia and took refuge in the United States and, although the accused denied it, the evidence exposes their strategy.
http://plenglish.com/index.php?option=com_content&task=view&id=4531081&Itemid=1
Pour être informé des derniers articles, inscrivez vous :